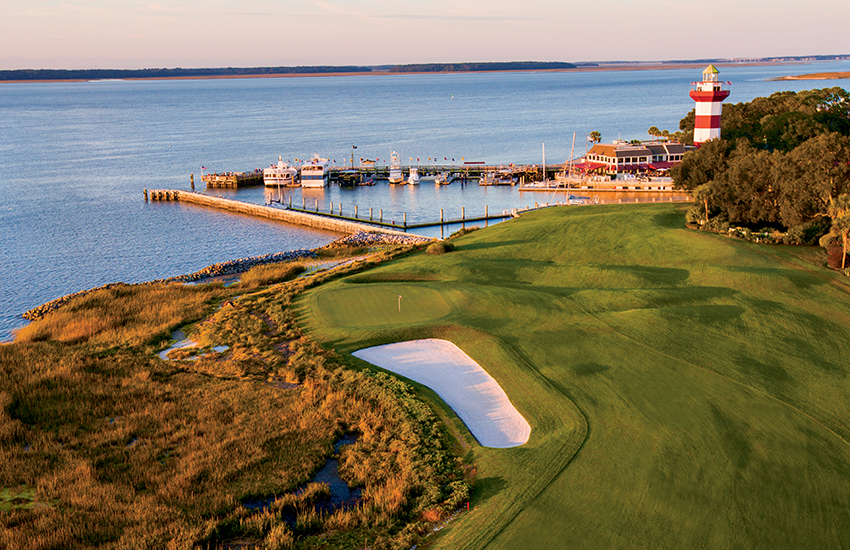 From the mountains to the beaches, South Carolina offers a little bit of everything. And the golf courses are no exception. In fact, the Palmetto State is home to more than 350 completely unique golf courses. Continue reading to learn more about some of the best ones.
Best Golf Courses in South Carolina
1. The Ocean Course
Kiawah Island, South Carolina
There are several reasons the Ocean Course at Kiawah Island Golf Resort is one of the best golf courses in South Carolina. A round at the Ocean Course begins with a scenic drive through towering oak trees and along beautiful marshland with glimpses of the multi-million dollar mansions that dot the island. And the golf course itself is equally as impressive.
The Ocean Course boasts the most seaside holes in the Northern Hemisphere with ten holes right along the Atlantic Ocean. The result is beautiful views along with firm playing conditions and challenging ocean winds. 
2. Yeamans Hall Club
Charleston, South Carolina
Designed in 1925 by Seth Raynor, Yeamans Hall is a relatively untouched gem. It's ultra-private and has been praised for its commitment to its original design. Over its nearly century-long lifetime, the only significant change to the course came in the late 90s when Tom Doak was contracted to reconstruct the greens. The course itself is just a short drive from downtown Charleston, but its secluded setting feels a world away from everything.
3. Congaree Golf Club
Ridgeland, South Carolina
Congaree Golf Club is relatively new to the Lowcountry golf scene having opened just five years ago. Like Yeamans Hall, it's a seriously exclusive club only open for a handful of months throughout the year for those invited to the club to play. 
The course was designed by Tom Fazio on the site of a former rice plantation and many consider it to be one of his greatest designs. It's noted for its Melbourne-style bunkering and pristine conditions. 
4. Harbour Town Golf Links
Hilton Head Island, South Carolina
Harbour Town is one of three golf courses at Sea Pines Resort and it truly takes "resort golf" to the next level. It's also home to the PGA TOUR's RBC Heritage, the state's only TOUR event, held annually every April. The course is distinguished by its towering oaks and pines, beautiful coastal marshes, and stunning waterfront fairways. But, it's the 18th Hole, with the onlooking Harbour Town Lighthouse, that golfers find most memorable. 
5. Country Club of Charleston
Charleston, South Carolina
The Country Club of Charleston is not only of the best golf courses in South Carolina, but it's one of the oldest, too. It occupies 900 acres of the McLeod Plantation on the banks of the Ashley River which affords panoramic views of the Lowcountry and surrounding marshland. It was designed by Seth Raynor in the early 1920s and has undergone a handful of restorations throughout the past 30 years. 
The Club is also no stranger to professional play having hosted the annual Azalea Invitational, the Beth Daniel Junior Invitational, several state championships, and the 2019 U.S. Women's Open.
Enjoy stress-free travel to the best golf courses in South Carolina by shipping your golf clubs and luggage ahead! Learn more or get a free quote today.
Well hello, I'm a blogger. This is not my day job. It's just something that I really like to do when the occasion arises and on any evening after dinner or dinner time .I like to play with food and make recipes that are pretty easy to put together, but interesting. and new. I love trying out new recipes and cooking with my family and friends, who are very supportive of what I do. .My name is Jolie and I'm a mom of 3 kids.
My oldest just started college this year and what I love most about blogging is bringing some of the things that are in our home to other people who want to cook at home too. I love talking about what we cook, seeing how others prepare meals and sharing photos along the way. .Hi Jolie, welcome to my blog! I read your profile and see that you're a mom of 3 kids. What is your youngest age? What do they enjoy doing? My youngest son is 3 years old, my oldest one just graduated from high school and will be starting college soon and the middle one is 12 years old.
I write online from the comfort of my own home to help people lead better lives. These non-fiction, educational articles went on to become one of the largest blogs in the world. I also like escaping outside on a family hike or run.